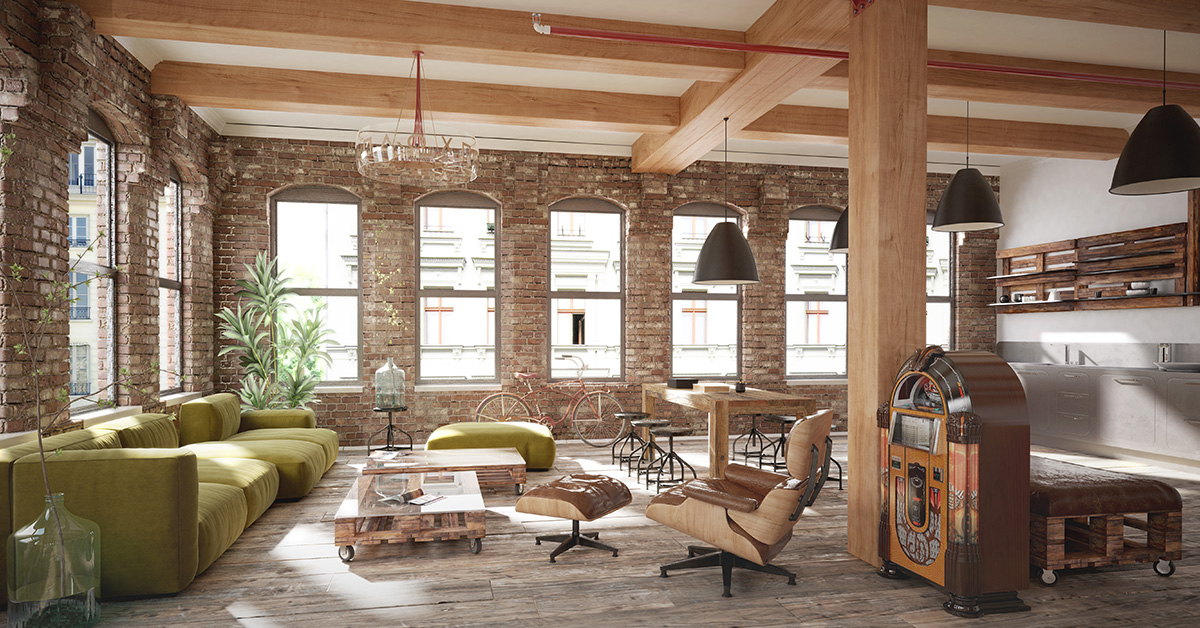 Industrial, but rustic. Modern, but vintage. Loft style truly offers something for everyone. It's an adaptable and appealing aesthetic that's equally at home in the city and the burbs. And you don't need an abandoned warehouse space to enjoy its charm if you build on these design foundations.
Open-concept spaces. If you have a large, multifunction room in your home, like the one pictured above, it might be perfect for loft-inspired living. Fewer walls let all the available light flow throughout the space, keeping the look bright and airy even with rugged brick walls and chunky furniture.
Big and Bold Decor. Don't try to cram too many furnishings and accessories into your loft. Be confident — choose a few large-scale pieces to complete your design. Check out the size of the sofa and pair of cocktail tables above. Lots of generous seating and plenty of places to set a drink or plate make loft spaces terrific entertainment venues.
Bare windows. Over-sized windows are a plus with this style. But whatever you do, don't overdress them with layers of curtains. If you need privacy and light control, consider handsome wood blinds or sleek, contemporary shades — preferably ones you can control conveniently with a remote.
Earthy colors. Establish a neutral pallet using gray, brown, beige, black or cream. But feel free to introduce one or two accent colors, like the citrine in the sofa and ottoman pictured here. 
Elemental style. Wood, stone, cement, iron — these materials are at home in loft-style interiors as long as you leave them in raw, unfinished or distressed states. They all mix together beautifully but can create maintenance issues. MARBLELIFE® can stain and seal cement floors to preserve their industrial charm while making cleanup a breeze. And if you have concrete countertops, we can take care of those too.
Industrial lighting and accents. If you enjoy retro furniture, indulge your throwback taste in your loft space. Look how terrifically this Eames chair pairs with the rustic coffee tables on casters. Edison bulbs and bell pendants with cages complement this style perfectly. So does anything that feels ripped out of an old factory or plumbing system. Steer clear of fancy crystal chandeliers and go for bold and funky fixtures instead.
Exposed brick and pipes. Brick walls are quintessentially loft. Ditto for overhead pipes and ductwork. Show it all off when it comes to your style statement and layer in lots of textures with wood, cement, metal and stone. But don't stop there — use a neutral shaggy rug, nubby fabrics on pillows, pottery accents and other elements to create a rich textural palette.
MARBLELIFE® can help you create the foundation for a loft look with our complete line of EnduraCrete concrete stain finishes. We can take a boring, dull concrete floor and turn it into the centerpiece of your new industrial style. Call a MARBLELIFE® pro for your free in-loft consultation today.