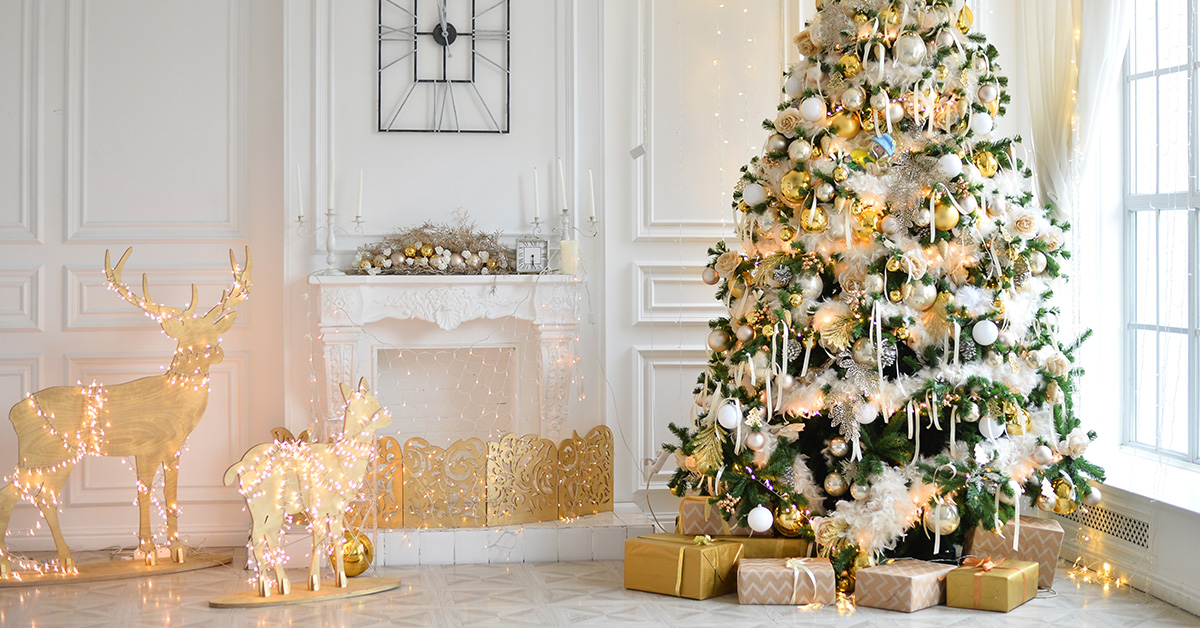 It's that time of year again. Time to deck the halls and trim the tree in preparation for family and friends to celebrate the holidays together. To help get your home in the spirit of the season, check out MARBLELIFE's quick and easy holiday decorating tips.
Your Entryway Sets a Celebratory Mood
Holiday cheer is all about first impressions, and your entryway is the perfect place to kick off the festivities as guests arrive. Make a big statement in a spacious entryway with fresh garlands and tall, bare winter branches adorned with white twinkle lights. Then add the little touches such as sprigs of pine and berries or a collection of sparkling snowflake ornaments.
A lackluster floor can ruin a grand entrance, so this is a great time to schedule a quick floor cleaning and polishing with MARBLELIFE®. Our expert technicians will restore the elegance of your stone floor and diminish the look of dull spots, scratches or etches. Be sure to put down high-quality floor mats inside and out to help keep tracked-in dirt at bay.
Kitchen Holiday Cheer
The kitchen is often the most popular room in the house when entertaining — so don't neglect decorating this important space. Welcome guests to a kitchen full of holiday cheer with a tray of colorfully decorated cookies. Accent your countertop with pomander balls, jars of peppermints and bowls with foil-wrapped candies for guests to enjoy.
And with all eyes on your countertops and your holiday culinary delights, make sure yours are looking their best. Unsealed natural stone countertops can be easily susceptible to spill-absorption and can stain over time. Don't let a mulled wine mishap permanently mar your marble surface. MARBLELIFE® can repair, polish, restore and protect countertops ahead of your big holiday bash — and beyond.
Beautify the Bath
Surprise guests with a few decorating touches where they will least expect it — in the bathroom. Holiday hand towels and non breakable decorations can add whimsy to an often-overlooked space (Ho-ho-ho toilet paper is entirely your call). Pine decorations, a small wreath or scented spray, however, can add a wonderful, well-placed winter aroma. Make sure your floor and shower tile is in tip-top shape for company and overnight guests with a fast tile cleaning and sealing visit from MARBLELIFE®. We'll be in and out in no time and leave your tile looking brand new.
Once your tile floors are cleaned and looking their best, you'll want to maintain that sparkling glow by sealing them with ColorSEAL/TileLOK. In less than eight hours, this treatment will seal and lock in the cleanliness and beauty of your floors — and they won't stain again. Dirt will remain on top, where it's easy to clean and remove with a damp mop. What a wonderful — and lasting — holiday gift to yourself!
Gather Round the Fireplace
A focal point of any holiday home is the fireplace — after all, that's where Santa does his best work. Decorate your mantel with greens, baskets of ornaments or electric candles. And always think about home and fire safety when decorating around the hearth and open flames.
Get your natural stone fireplace ready to serve as the centerpiece of your family celebration — and a worthy backdrop to your holiday photos — by having it professionally cleaned by MARBLELIFE®, a leader in hard-surface cleaning, polishing and sealing.
It's a Wonderful Life in a MARBLELIFE® Holiday Home
Make your holiday home a MARBLELIFE® home … call one of our friendly and professional hard surface care specialists today for a free in-ho-ho-home estimate. And from our family to yours, happy holidays!