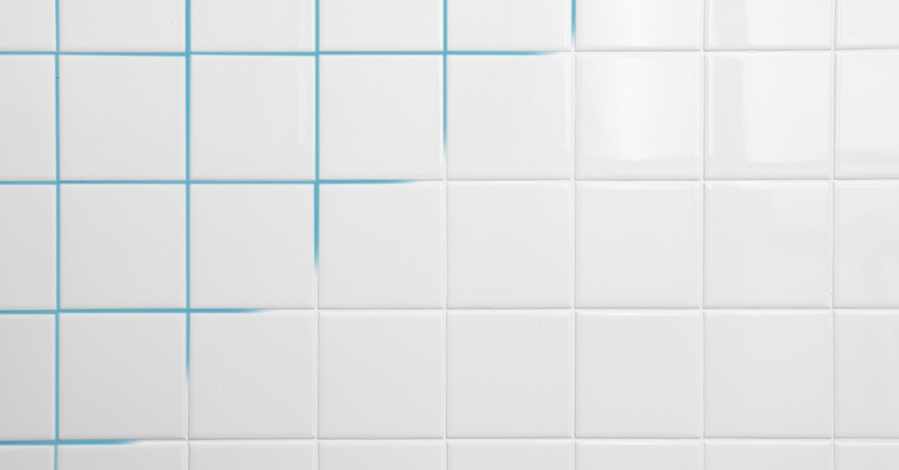 The color of your grout can have a tremendous impact on the appearance of your tile surfaces — and not just in terms of whether it looks clean or dirty. It can actually dramatically affect its design style too. A grout color that blends in with your stone or porcelain tile creates a clean, seamless appearance that keeps the focus on the beauty of the material. A contrasting color, on the other hand, brings out more pattern and geometry, offering additional visual interest and giving your tile floor or backsplash a more modern, graphic look.
You might be thinking, "But I'm stuck with the grout color I have, right?" Wrong! With MARBLELIFE®, you can change the color of your sanded or unsanded grout to give your tile surface an entirely different look and an instant facelift.
Did you know that MARBLELIFE® can re-colorize your grout to any hue you choose, while delivering a higher level of color consistency than it had when it was first installed? And if your grout is stained and dingy — it can once again be as bright and white (or any color) as the day that tile was laid. And we can do it all in less than a day with no dust, no demo, and no inconvenience.
When we're done, your re-colorized grout will be better than new because our colorization technology is engineered to eliminate the acid sensitivity problem that traditional grout seals suffer from, and it will have added protection to keep it looking great a lot longer. What you'll end up with is a better color and a longer lasting, easier to clean finish. MARBLELIFE® Colorseal is truly a better-than-new solution for grouted tile surfaces.
With our advanced re-colorizing technology, you can recapture the original color of your grout. But if you want to get a little more creative, you can even match the color of your new counter, paint, or curtains. You can use your child's favorite color for the grout in his or her bath. And if his or her tastes change when they get older — no worries — MARBLELIFE® can simply re-colorize it again.
MARBLELIFE® Colorseal is also a great solution for homeowners looking to list their house or condo for sale. Nothing will turn a potential buyer off faster than dirty-looking tile in a kitchen, bath, or entry. If you have a wood-look porcelain plank floor, we can color the grout so that it blends right in with the tile color to make the illusion even more convincing. We'll clean your existing tile floor or backsplash, re-colorize the grout, and leave it looking like a new installation. And that could mean a faster sale or more money in your pocket at closing.
You don't have to be embarrassed by stained grout on your floor, backsplash, or countertop any longer. Call your local MARBLELIFE® professional today to get your grout looking great again.
Call MARBLELIFE at (888) 524-3372 or visit us online to secure your FREE ESTIMATE at www.MARBLELIFE.com or to www.MARBLELIFEPRODUCTS.com to secure the care products appropriate to your surface, and your desire for an easy effective cleaning solution.