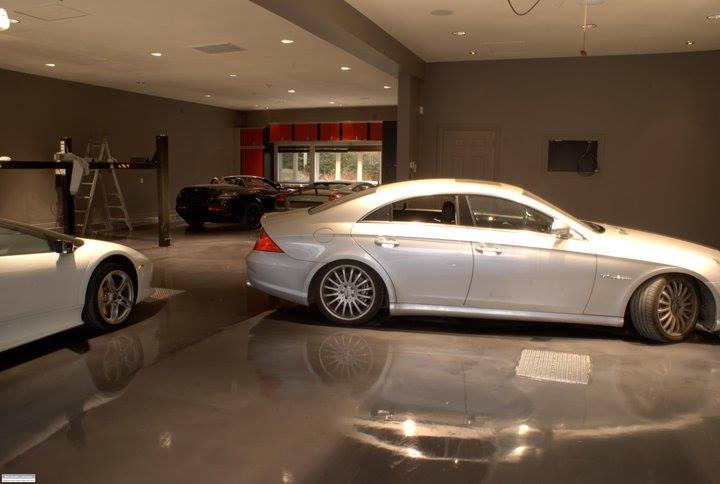 According to the Washington Post, luxury garages are "zooming onto the domestic landscape" as a "new status symbol" in today's homes. TVs, bars, mood lighting and even car elevators — it seems that virtually nothing is off the table with this fun and exciting trend.
MARBLELIFE's® Enduracretetm concrete floor coatings, stains and polishing services provide you the options you need to turn your dusty old gray garage floor from a snooze into a showstopper. Not only will your garage floor look terrific, but it will also be more resistant to spills and stains, and easier to maintain. Choose from a large number of color and finish options from matte to satin to glossy, to create whatever look complements your décor — and your ride. You can select from up to 35 colors in our stains (depending on the specific product), while the possibilities are virtually limitless with our epoxy finishes.
Pimp Your Garage
While you might not be able to afford an elevator, there are some fun things you can do on a more realistic budget once your garage floor is showroom ready. First off, why not paint the walls a fun accent color to set off your ride — cobalt blue or even metallic gunmetal gray? And there's no reason you can't add some art to this functional and often overlooked space — maybe some replicas of vintage racing photography or an homage to classic muscle cars.
If you're going to be spending a lot of time in your garage (and you probably will now that it's going to look so cool), consider adding a flat screen, mood lighting or ceiling fans. But since this is an indoor-outdoor space, make sure all your products are up to code, weather resistant and installed by a licensed and insured contractor. If you have room to spare, you can add a pub table and a couple of barstools for a quick perch. Throw in a set of all-weather Bluetooth speakers, and you've got a hangout that's totally legit.
MARBLELIFE Can Help
There's no reason the garage has to be relegated to a purely utilitarian function. Why not create an environment that reflects your personality and is fun to drive your car into at the end of the day — one that will tempt you to linger before heading in the house. Create your dream garage from the ground up by calling MARBLELIFE today for a free in-home consultation for your concrete floor makeover — and start turning the dream into a reality.
Source:
Washington Post
Call MARBLELIFE at (888) 524-3372 or visit us online to secure your FREE ESTIMATE at www.MARBLELIFE.com or to www.MARBLELIFEPRODUCTS.com to secure the care products appropriate to your surface, and your desire for an easy effective cleaning solution.