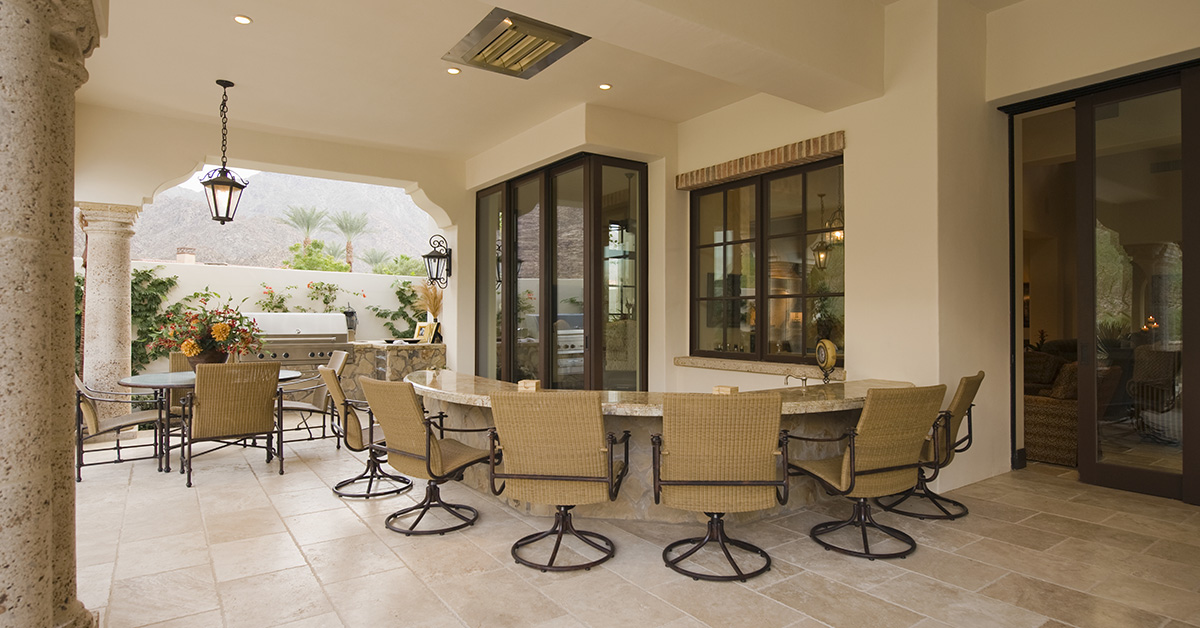 If you're lucky enough to have a vacation home that you use for your own enjoyment or a second home that you rent out to make some extra cash, you know that with that privilege comes a lot of extra maintenance and the potential for damage from guests or renters. But there are a number of things you can do to help reduce the risk of damage so that your vacation home can be a relaxing retreat instead of a stress station. Here are some tips to help keep your stone and tile surfaces vacation ready all year long.
1. Protect stone and grout surfaces with a high-quality sealer. A good sealer, properly applied, can save you a world of heartache. Invest in a high-quality stone and grout sealer, like those offered by MARBLELIFE®, and apply it according to the recommended schedule. Do not assume that your surfaces are already sealed. Seals break down over time. Don't believe the claims of 15-year products. These warranties are full of loopholes that disqualify most consumers. If you're unsure of what to do, speak to your local, knowledgeable MARBLELIFE stone care professional who can then recommend the correct product and sealing schedule for your particular surfaces. If you are sealing your grout, ask them about MARBLELIFE COLORSEAL designed to resist acidic cleaner and spills, the most common source of seal damage.
2. Ensure prompt and regular cleanups after a guest or renter stays. Don't let days or weeks go by before you schedule your cleaning service after the property is vacated. The longer you wait, the harder stains can become to remove or the deeper an acidic etch can grow. So have your cleaning service arrive right after the guests leave and make sure they only use cleaning products that you approve of. Also, leave care instructions for renters and any professional housekeeping services you engage.
3. Leave the right MARBLELIFE stone- and tile-care products and tools for guests. A well-intentioned green clean-freak who does you the favor of cleaning before they depart could actually be your floor's worst nightmare. All-natural vinegar cleaners can burn and etch your marble, damage your grout's seal, set your floor's protection back, drive up your maintenance budget, and cost thousands in restoration. Leaving the proper products in place increases the chance that your floors will be cleaned safely and appropriately by your well-intentioned guests staying at your vacation home.
4. Use a good quality open design mat at all entrances. An open design allows dirt removed from shoes to fall INTO the mat and below the surface so the next person coming in doesn't track dirt and debris into the house, as can happen with many poorer-quality commercially available mats.
5. Bring in a professional for regular maintenance. MARBLELFIFE has the stone and tile care solutions to properly care for all your fine stone and tile surfaces. We can restore existing damage, clean surfaces to bring back their natural beauty, and then protect them with the proper sealer to keep them looking great longer.
MARBLELIFE can also walk your property to provide cost-saving suggestions on how to reduce maintenance and avoid restorations through subtle, inexpensive adjustments to mats and cleaners. As always, it's less costly to prevent damage than to fix it after the fact.
We're entrusted to care for some of the finest residential and commercial properties across the United States, and we're standing by to help take care of your vacation home. Call MARBLELIFE today for a complimentary consultation.